A PMO optimization to streamline project delivery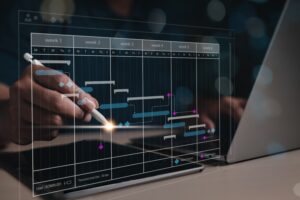 The Altum Crew brought decades of expertise to revamp project management processes and technology.
_________________________________________________________________
Client: InsurTech Company
Solutions Area: Strategic Growth & Digital Transformation
Engagement Objective: Create a Program Management Office (PMO) to establish policies and processes across business and technical teams.
___________________________________________________________________
What was the client's challenge? 
The client's business objectives were delayed due to a large backlog of IT requests and inefficient processes that perpetuated late project delivery.
Why did the client choose Altum over other firms? 
Altum's Crew of experts brought decades of experience in standing up and managing PMOs in various environments, which presented their own unique challenges, assured the client that they had a trusted partner who can understand the complexities of their working culture and operations and design the appropriate solution.
What was the solution?
After analyzing the organization and its IT function, Altum recommended four critical changes:
Implemented a PMO driven change management and request process that coordinated with business groups to prioritize and re-prioritize requests.
Implemented an Agile/Scrum methodology to replace the client's practice of Kanban, which was used to schedule workflow with minimal monitoring. The implemented sprints enabled dedicated activity and project focus for given periods of time with the PMO monitoring progress and providing necessary support.
Enhanced the prioritization of IT request by taking the client from a state where requests were rarely documented with adequate detail to one where detailed business case documentation for all new projects was required.
Implemented a production support team to address support requests that were not being triaged, leading to delays and user dissatisfaction.
How did the Altum Crew incorporate bold thinking into the solution's implementation?
Altum dove deep into the client's staff workload and ultimately uncovered that staff capacity fluctuated between 50% and 200%, resulting in incomplete requests and an unpredictable project schedule. The Crew saw the need for major changes and implemented an Agile Scrum methodology and optimized the client's project management tool, Jira, to support the sprints that enabled focused project initiatives and more timely software releases.
How did Altum tailor the solution to the client? 
The Crew helped the client lean into their value drivers — project management software and select existing staff — while continuing to establish a PMO and optimize core systems and processes. Altum worked with the client and vendor to align Jira with the Agile methodology and deployed a mix of existing and new staff to retain historical knowledge of the company and their clients while providing holistic experience and new ideas.
How did Altum blend People, Process & Technology?
By placing the right people in the PMO, emphasizing communication and active engagement, and tailoring the supporting software to the PMO's needs, the client was able to involve more business users, increase the flow of information to the appropriate teams, and execute more efficient project delivery.
Metrics:
Reduction in bug-fixes and minor enhancements from 70% of sprint capacity to 35%.
Tasks completed as scheduled increased by 50%
Increase in business unit satisfaction by 30% (as per quarterly surveys)
Date

August 2, 2023

Tags

Case Study, Financial Services, Financial Services Case Study, Strategic Growth & Digital Transformation